STashbuilders Round and Row Robins

These are finally finished and heading home today.


This is Brenda's round robin, which I just put the final border onto. I spent all day yesterday working on putting this border on, which was cut and sewn several days ago. I managed to perfectly miter the first two corners without any problems at all, but the final corners did not work. I took them apart four times and kept trying again. Finally, I gave up.
Here (above) you can see what I did instead. I cut the darned corners off (okay, that sounds easier than it was too, because I actually had to carefully pick apart every seam and they don't come apart that easily) and applied corners from the background fabric matching from the section that seemed to match the best. You can't tell easily, but the material fades from a nearly black to a light grey with little gold stars though it. I managed to mostly match the colors so that the background changes colors several times throughout the border.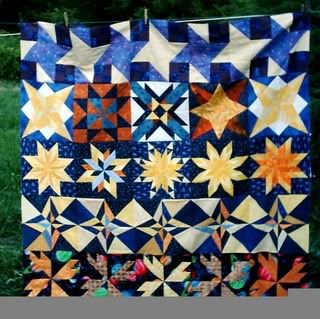 And this is Nancy's row robin. I added the top row, which isn't all that complicated but I thought was pretty neat and works well in this peice. I think it works well at any rate, but I suppose others may or may not disagree.
And that is the bulk of the quilty work for the month of June. I suppose it's time to begin the projects for July and August.