Opinions Requested!
Okay, I need opinions. I made this peice of embellished fabric recently. Actually, this is half the peice. It started out a fat quarter, which shrank about an inch in each direction with all the sewing. It's also backed with warm and natural batting, which I hate for the big machine, but is fine for the DSM.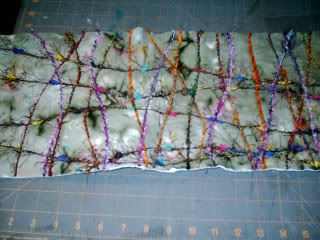 This is the back of a purse I made with the embellished fabric. Not very exciting, but okay, as this is the back side. It's got a long strap for hanging over the shoulder, so really wouldn't be all that visible under normal circumstances.


Okay. This is the front of the purse, with a peice of blue feather stuff tarting it up a bit. That's just pinned on there, not permanently attached. It may not stay, and that's the point of this posting. Should it stay or should it go? Scroll on a bit and see the next photo.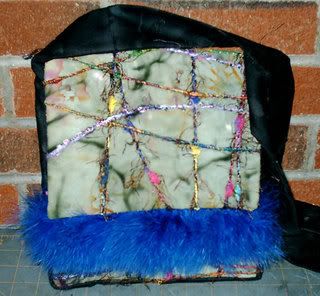 This is the purse without the blue feathery stuff tarting it up. It's dull. It's not exciting, and despite the crazy stuff making the material really cool and fun, this just bores the dickens out of me. It's just gotta have something! But, is that something the blue stuff shown above or something else altogether? Comment here and tell me please!