The Great Birthday Quilt Marathon
The great Birthday Quilt marathon has ended. I spent today -- all of today -- making this.
It only measures approximately 45 inches square, but considering that it began life today as a pile of 18 untrimmed happy blocks and some scraps, and ended the day as a finished, quilted and bound birthday present, I feel pretty good about it.
The binding is a wild multicolored green that came from Hancock's 50% off section. I got two packs of it and it just made it all the way around with maybe 8 inches to spare.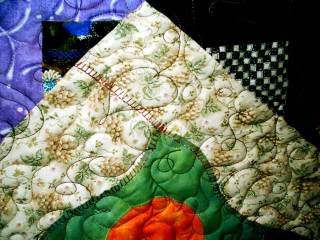 Close up. You get to see the machine blanket stitching on the aplique. I can't spell that word. At any rate, the quilting was done in about two hours, and I even made hubby get involved in that part. It was actually somewhat amusing to watch him terrified that the big machine was going to jump off and bite him. However that got boring very quickly, and so I chased him off and got on with it. There is no real rhyme or reason to the quilting, except that it's vaguely a heart-shaped vine pattern, and it fills the quilt. I thought about feathering the inner border, but that would have taken far too long and I really wanted to finish this today.
The back. Some cool brown paisley I picked up today at Hancock's when I went in for the binding. It was off the $2 a yard table, and I bought it all. Thankfully, there was a bit left over. Darn, I wonder how that happened?