Latest work
I've been busy, but now it doesn't look like all that much, especially considering the amount of time represented here. Naturally, I have nothing to illustrate the amount of time I have wasted...
Anyway, on to the descriptions.
This is the fabric postcards I sent out last week, for a swap. I started three other times, and was utterly unispired and kept being disgusted. I attempted to machine quilt on my regular machine, and was really appalled. I'm darned good with freemotion quilting -- on the big machines, but I absolutely suck at it on a machine that is stationary.
My round robin center for Stashbusters round robin -- I think I'm going to add one final, narrow border to this, since I really like the effect the green has, and that's just lying there, not actually sewn onto the project.
These are all the detail images, obviously.
First block for the row robin project (also on Stashbusters). I really got into the flying geese for a bit, but got over it. :)
Another original block utilizing my temporary fascination for flying geese. After this one, I was no longer inspired, and it took four false starts to get any farther.
Here it is, pinned up to the window. Yes, that's brown kraft paper covering two large glass doors. Only one of them opens, and since I need the space more than I need the door, I blocked it all and covered it with paper because I'm too lazy to make new curtains.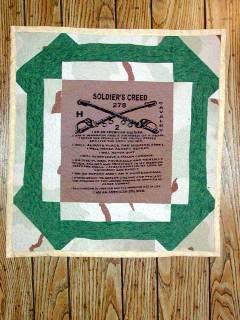 This is a wall hanging made out of desert camo, and an old t-shirt, for a woman who's husband is just back from Afghanistan. I'm also working on a quilt for him, using more of that uniform (yes, the uniform and shirt were things he wore there)and it's amazing how long it actually takes to pick apart a set of those things, never mind pick all the thread off when it is dismantled. It's also pretty surprising to see how much fabric is actually in that uniform. The quilt is going to be a twin size, and should be finished and delivered by Monday.
Finally the back of that same wallhanging and the corner, using a recently learned method for making a hanging method (courtesy of Ami Simms).