Explore Your Inner Weirdo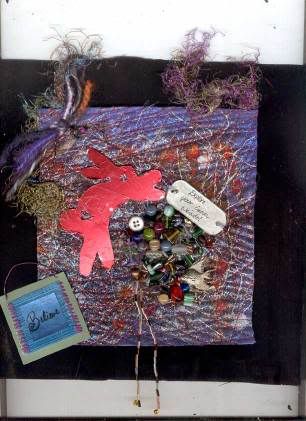 This is what yesterday's image has become. Explore your inner weirdo, and believe... believe that I will do odd things with bunnies, at least.
That's an old tin bunny someone gave me a few years ago. It was rusty and kind of cool, but did not show up at all, so I decided to gold-leaf it. The base coat and adhesive were very handy, and that part was accomplished in no time at all. Then I went searching for the leafing sheets. However, hubby had decided at some point to clean the darn living room and move everything around, and I never did find what I was looking for.
So, I had all these red tinfoil wrappers from Dove Dark Chocolates, all smoothed out and stashed in a handy paperback book. I cut the top half off about 4 of them, and slapped them down there, since it's a nice, deep, vibrant magenta-ish red, rather something bright and bold and gaudy. And there you have, my dove-leafed rabbit, which is part of what inspired the inner weirdo.... that and the 'trite sucks' challenge in one of my web groups. I'll have to post this there too...
I didn't actually touch my machine today, left it strictly alone. After last night and the oil dribbling incident on my dad's quilt, I'm mad at her. And of course, the tiny oil dribble came at the same time as a sudden dislike of some overly expensive
King Tut thread
, and naturally enough in a very light colored section of a log cabin quilt, on the second square of the second row. I'm using an overly complex pantograph on this, so it's slow going anyway, and I'm stressing because it's a special gift to my dad, who helped me get a very special
gift
, so it's got to be as near perfect as I can make it.
So, the nutty thing today was my way of taking a break from the high stress quilting job. I never got this worked up over a quilt when I was working for CMQ and the quilts were for actual cash, which I could use a big dose of right now.
Saturday is the
Mike Cross
concert... first one in about 10 years. I am hoping to find enough $$ to buy a CD, but it's not looking good. Still, I get to go because I got tickets as a late Christmas present, and I will enjoy it more than anything I've done in a long, long time, so I am grateful.
And that, I think is it for today.