Angelina Fiber Fun

That is the peice I created with the angelina fibers. It's approximately the size of a normal ironing board top, quilted with invisible thread and backed with black cotton. The edges aren't finished yet, and it's in serious need of ironing. I thought originally it would be subject to excessive beading, but at this point I don't think so. I quilted it today, a first try with using invisible thread on the quilter, and after an initial hiccup, she did beautifully. I believe I shall finish it up and take it to the NimbleThimble for a demo peice. I guess I need to make a snazzy label for it first though.
I just did a simple meander on it, and mostly managed not to cross my lines, though I did do it at least twice. The quilting really stands out in this photo because it's not been ironed, though that's the point, so I don't intend to iron it flat as a pancake. Oh, and this was a first experiment with water soluble stabilizer as well, which is fascinating stuff. It simply disappeared into a soapy foam that vanished with a little rinsing -- took a lot less time to get rid of the stuff than it did to pin it down in the first place. I was amazed.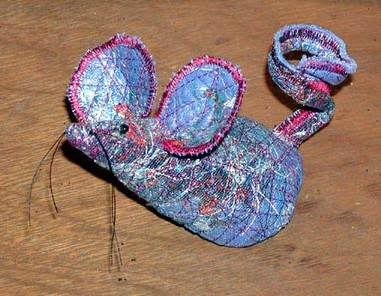 This guy is the mouse (with satellite dish ears) I made from the first peice of play with the fibers. It's rather large, real mice would scare me at this size. Even the hamster-like fat mice aren't that big.
And finally, I discovered a new Yahoo group today, which will probably end up being very bad for me. It's Stashbusters, and I can see myself going broke on postage if I'm not careful.
Well, that's it today. I hope that someone calls soon wanting quilting done; I really need the money and the practice and the work.